Restoring colour
---
Restore the original colour? It's possible!
LCK® has a database that goes back 30 years with more than 20,000 color samples. We have most leather samples from our partner Ohmann Leather®. This allows us to create a colour lotion with the original colour number. Choose the correct leather type and color from the selection menu. The Keralux® colour repair set is completely adjusted to the chosen leather. If your colour is not listed, this colour can be made if you send us a sample, see below for more information.
Our colour lotions are water-based, partially transparent and are made with the original dyes and/or color pigments of leather. The cleaner from the set is also selected for each leather and specially added. So you get a complete repair kit that is completely customized!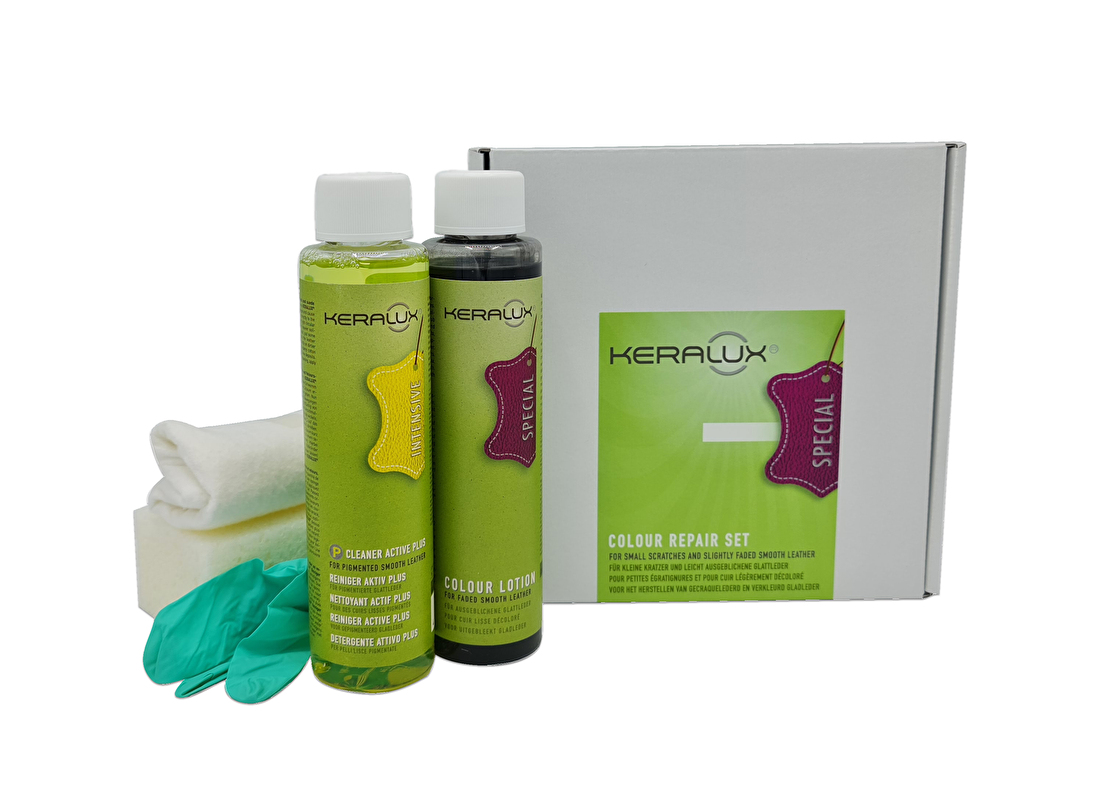 Picture: Keralux® colour repair set
Contents of a Keralux® colour repair set:
Keralux® colour lotion (250ml)
Keralux® cleaner (250ml)
Sponge (1 piece)
Cloth (1 piece)
Glove (1 piece)
Manual
Delivery time
+/- 12 working days, the colour will be specifically made for your application.
Suitable for
About 5-7 seats, depending on the model.
Frequently asked questions
Is the Keralux® colour repair set suitable for my application?
Is your sofa suffering from a stain, damage or colour difference due to years of use? Then this is probably the set for you. If you want to know for sure, we kindly ask you to send us a photo. Remember, our advice is always free!

Send in a photo

What are the requirements for a leather sample?
A sample, a small strip of leather, only needs to be 1-4 cm long and can easily be cut away at the bottom of a piece of furniture, or behind a closure such as a zipper. Sometimes the bottom is stuck with a few staples, when you pop those off you will see that the leather probably overlaps a few centimeters. Cut away a little piece and mail it to our mailbox (PO box), see contact.


Does a Keralux® colour repair set help against scratches?


A Keralux® colour repair set can be used to camouflage small scratches and abrasions. Please note: the colour lotions are always partially transparent. In principle, you build up the colour intensity with several thin layers of colour lotion. This means that most superficial damage can be neatly removed, but cannot be covered 100%.

Can i use the colour lotion for older / dried out leather?
When a colour difference arises, this usually has a cause, such as: dehydration due to the lack of nutrition. In that case, the leather becomes a bit more sparse or even harder. In this case, add the Keralux® leather balm to your order and proceed as follows:
Day 1: nourish with Keralux® leather balm, follow the package instructions.
- wait about a week, before proceding to the next step -
Day 8: clean and recolour the leather with the Keralux® colour repair set, follow the package instructions.
- let the leather dry completely for about 24h, after the last layer of colour lotion -
Day 9: nourish again with a very thin layer of Keralux® leather balm.

Do you have other questions about this product? Please contact us!